Living Arrows Week 25/52 (2017) – Learning Through Play, Reading and Nursery Rhymes
|
Welcome back to one of my favourite parts of the week, where I share with you beautiful people another installment of Living Arrows. I have yet again been guilty of falling behind by a few weeks so this will be a catch up post to bring me back up to date!
For those not familiar it is a weekly series hosted by the lovely Donna Wishart of What The Redhead Said where parents are invited to share and capture moments in their little's childhood. Here's what Eco got up to over the past three weeks…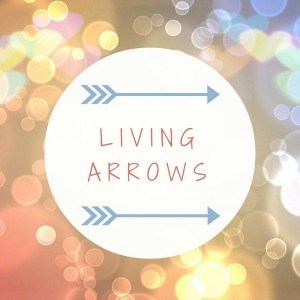 The #LivingArrows project originally took it's name from a poem by Kahlil Gibran…
"You are the bows from which your children are sent forth"
Week 23
This week saw my little role play for the first time ever and how it was such a wonderful thing to have witnessed. My Mother In Law kindly ordered Eco various wooden toys for his new playroom which included a Melissa and Doug Town Rug and Cars set.
It was an instant hit with my little and it didn't take Eco long to begin playing with the cars whilst lying down sprawled across his town rug making joyful car sounds.
It was the first time I had seen him soooo engrossed with his toys. He contently played in this way for a whole 5 minutes whilst I quietly sat and observed. I also managed to capture the moment on my smartphone to show hubby and my Mother In Law and later shared the clip via Instagram.
Week 24
Eco's love for reading books has been growing considerably over the past few weeks and every morning and evening like clockwork, he will walk up to his extensive book corner in his playroom, choose a book and bring it over for me or Daddy to read it to him.
He usually chooses the same books (Dear Zoo, Mr Tumble, Where's Spot? and The Hungry Caterpillar) and sits snuggled up to us whilst eagerly pointing at the characters and gleefully lifting up the flaps.
His general understanding is coming on leaps and bounds too and he can now make 7 correct animal sounds and makaton signs whenever prompted.
Eco further surprised me this week when he out of nowhere began completing the actions to his favourite nursery rhymes.
I find my face lighting up and my heart swelling with such pride for each time my nearly 16 month old baby put his little hands on his head, shoulders, knees and toes, claps and stamps feet to if your happy and you know it and open and closes his fist during twinkle, twinkle.
I feel like each day he is doing something new and get lost enjoying and living in the moment that I often forget to document it all (this explains why I often fall behind with this series).
WEEK 25
Due to the searing heat and sunshine we have been getting this week in London I decided to stay in with Eco as opposed taking him to his usual baby classes.
It has been fantastic to not have to worry about getting both of us ready and out the door by a specific time! We enjoyed messy play at home where Eco explored the texture of Jelly for the first time as well as lots visits to our local park.
Eco loves being outside and is every bit a Free Range Kid! He likes picking daisies and leaves and giggles hysterically at feeling the wind on his face and the sand between his toes!
That's us all caught up with #Livingarrows (thanks again to Donna for hosting) I am now going to check out what the other #Livingarrows community have been up to.
Be sure to check back next week to see what Eco got up to in Week 26 (it's already written and scheduled for posting x).
Google+